Driving range
NEDC 600+ km
C-NCAP 5-star
safety design standard
Dual-motor 4WD
Acceleration 0-100 km/h: 4s
Data from XPENG Lab. Acceleration and driving range can vary based on driving style, environment and road conditions.
Design radiates vitality
The Power of Life, Cosmic Energy
The P7's futuristic, minimalist exterior with its low center of gravity embodies cosmic energy, while its natural intelligence evolves in sync with your driving habits – energetic, vital, intuitive, always at your command.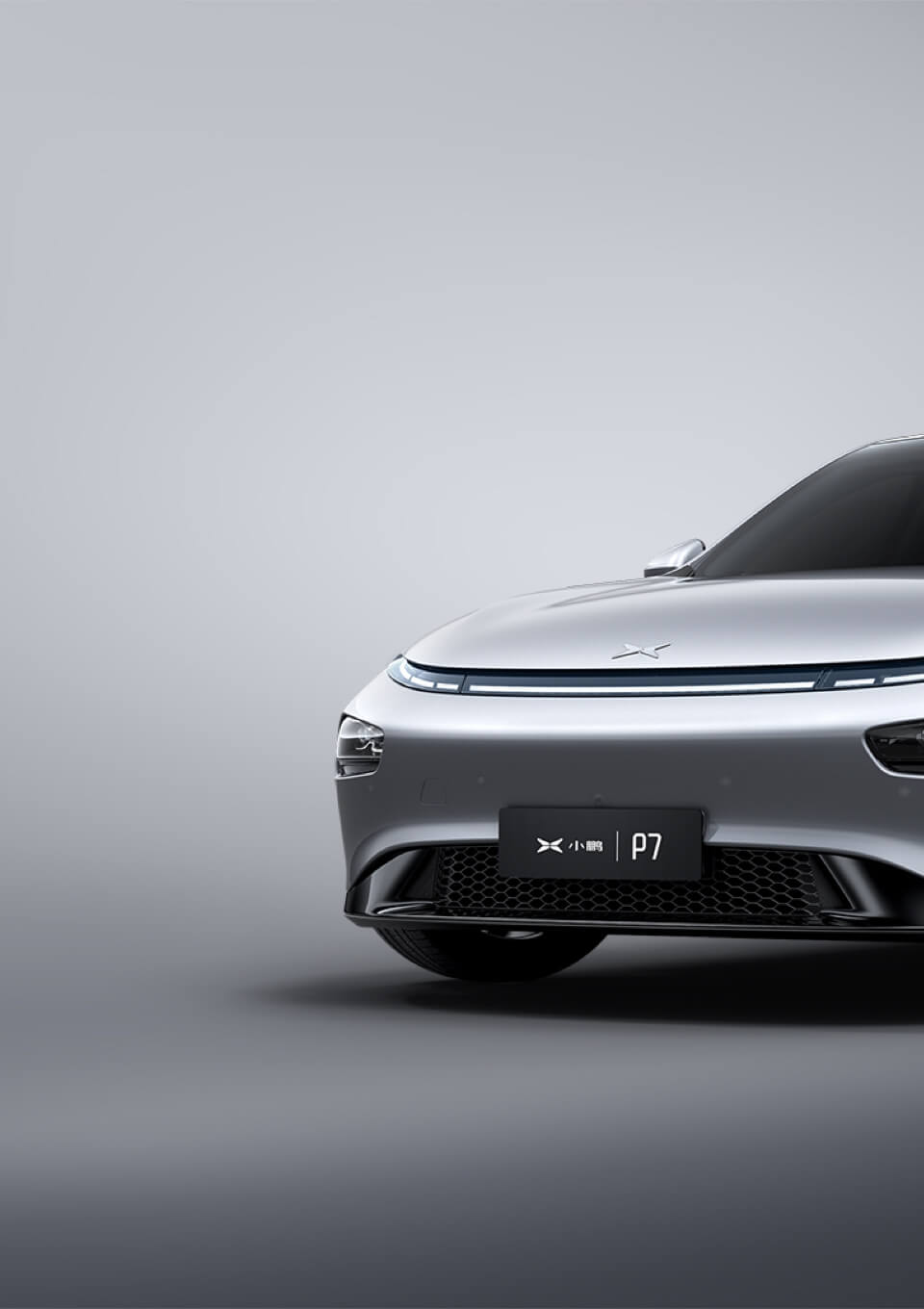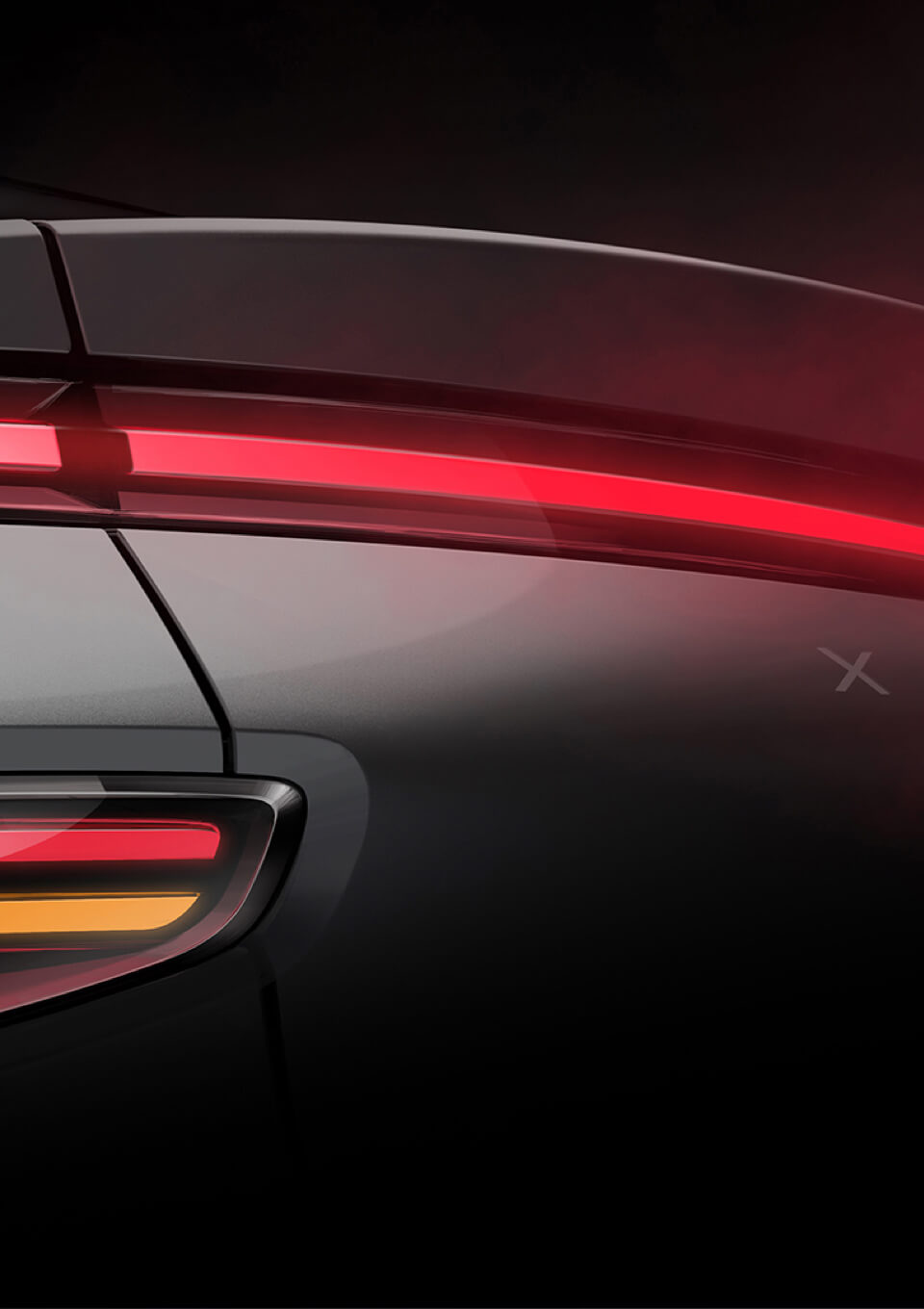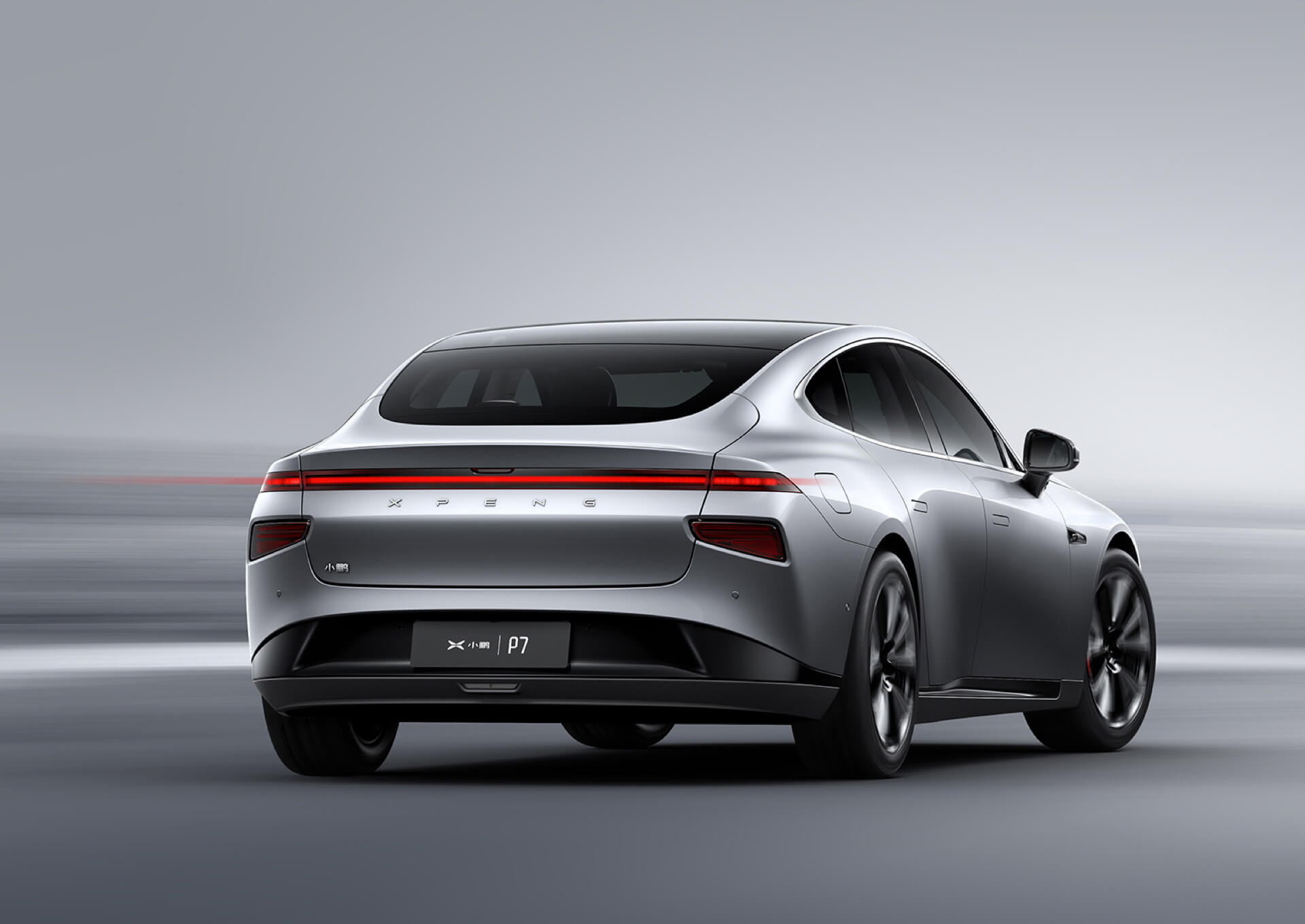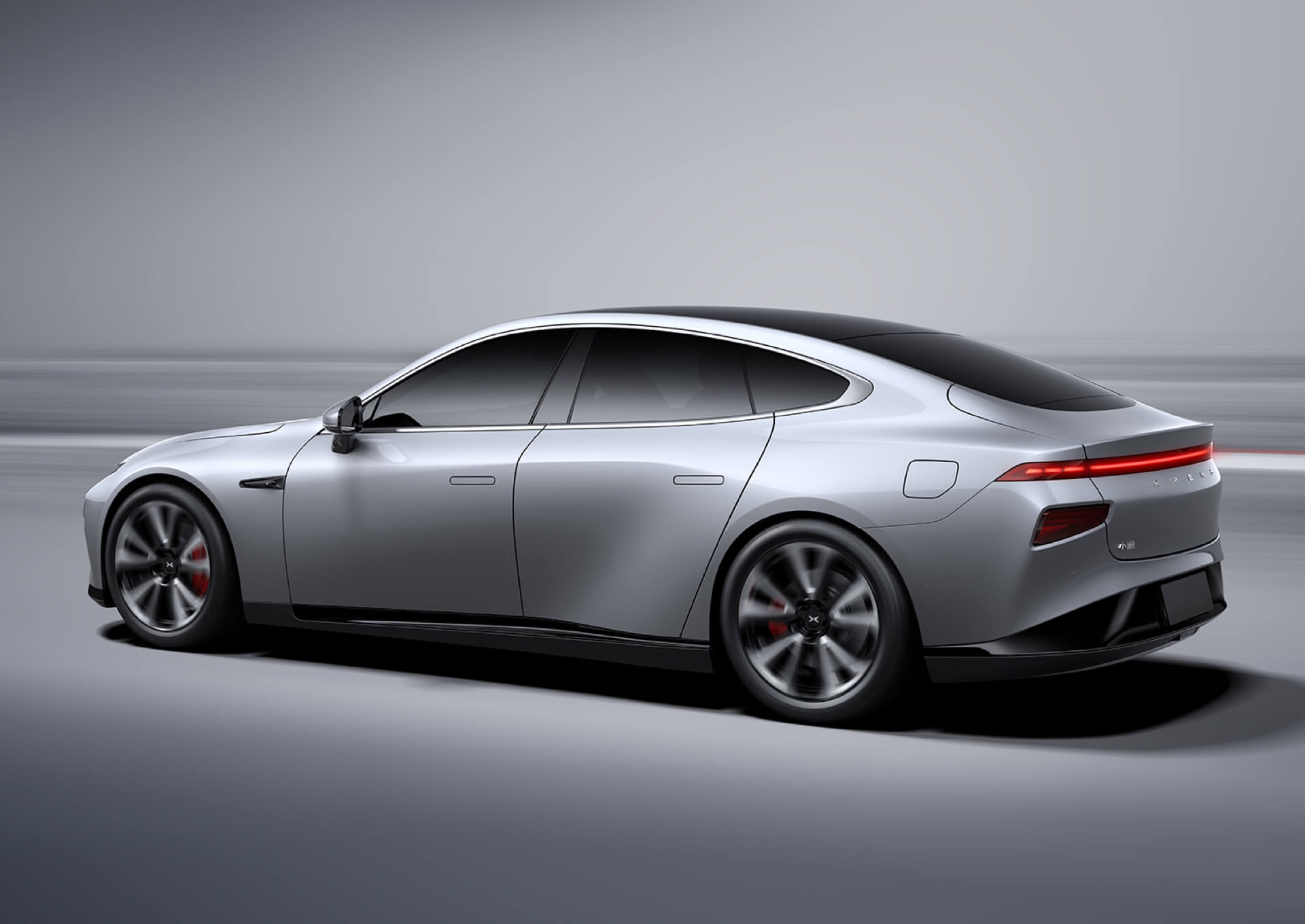 + 8
The 2nd generation smart car. Rediscover driving
Intelligent Architecture Powered by a Dual-chip System
Built on the SEPA platform, the P7 is a next-generation smart vehicle with more advanced
autonomous driving features and fusion-based perception, all powered by its dual-chip system.
The P7 offers you full connectivity to your online world. XPENG's intelligent vehicle ecosystem
is now online for the first time with more features ready for download.
Intelligent Dual-chip System
Optimizes your driving experience with faster response, sharper perception and greater comfort.

NVIDIA DRIVE Xavier™
NVIDIA's most advanced autonomous vehicle
chip - 30 trillion computing operations per second.1

Qualcomm Snapdragon™ 820A
Qualcomm's top-line vehicle processor2,
superior configuration.
SEPA - Smart Electric Platform Architecture
Built on SEPA, the P7 has an unmatched power-to-weight ratio plus optimum use of space.
It has powerful onboard intelligence ready to handle a wide range of autonomous driving scenarios.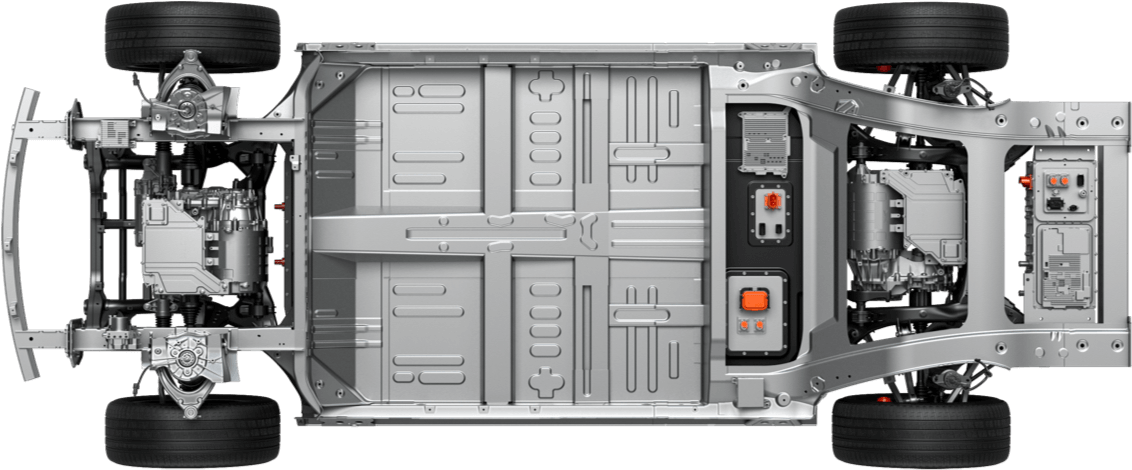 200x faster3
Data bandwidth
Level 4 autonomous driving6
Capacity for future upgrades
8x enhanced4
Data security chip computing power
5G communications6
Potential for future implementation
ASIL D highest level5
Secure autonomous driving computing platform
100% connectivity7
100Mbps Ethernet architecture
Easier Driving, Hands-free Parking
XPILOT 3.0 Intelligent ADAS
The XPILOT Advanced Driver Assistance System has been upgraded to enable autonomous driving tailored for China's road conditions. On city roads, the cut-in prevention function helps you navigate better. On highways, it delivers Level 3 autonomous driving assistance8. In cruise mode, it will identify the best lane10. Your P7 remembers your most-used parking spaces, and parks automatically at the end of your journey9. XPILOT 3.0 delivers a driving experience that exceeds your expectations.
Tailored autonomous driving10
Cut-in prevention for city driving11
Lane identification and automatic lane change on highways
Automatic parking
Memorizes most-used parking spaces,
automatic parking at journey's end9
Greater understanding. Fewer words
XUI Fusion-based perception
Intuitive communication
XUI is not an impersonal machine interface but provides natural and personalized interaction.
Intuitive recommendations
It understands you like an intimate companion, and knows just how to help.
At your service
One glance can serve as a command.
What is "intelligent driving"? XUI fusion-based perception answers your questions, empowering empowers the P7 with remarkable visual and auditory sensing capabilities and deep learning ability. The P7 can follow your instructions with one glance. XUI's deep learning ability trains your P7 to become your intimate companion over time, with greater understanding but fewer words. It will learn your preferences and even select the right music to suit your mood12.
Your car connects you to the world
Ultimate connectivity
The 2nd-generation intelligent vehicle is designed to integrate with tomorrow's smart living. From driving to battery charging, your P7 can seamlessly coordinate and manage your work, travel, leisure and entertainment. More smart living features will be introduced to upgrade your lifestyle progressively. A new world of experiences awaits.
Open platform with abundant applications
Vehicle ecosystem - APP STORE
With XPENG Motors' independent APP STORE, we are creating an open, smart living platform with an immense variety of applications ready for download13. OTA upgrades will improve the P7's deep learning capabilities and unlock more functionality for this intelligent ecosystem.
An Intelligent Mobility Solution
*1 Xavier achieves a performance of 30 TOPS. Data source: NVIDIA's official website. As of April 16, 2019, it is NVIDIA's most advanced vehicle chip.
*2 As of April 16, 2019, Qualcomm Snapdragon™ 820A is its top vehicle processor.
*3 Uses 100 MHz Ethernet central gateway, 200 times faster than the 500K high-speed CAN bus.
*4 The computing power of the data security chip (for main frequency and RAM) is 8 times higher than the previous XPENG model.
*5 Core computing platform, supported by the Xavier chip, has passed ASIL D level certification, the highest level in ASIL.
*6 SEPA does not currently have this function. XPENG Motors will upgrade its products as the technology develops.
*7 The central gateway enables 100% Internet connection for the SEPA controller.
*8 L3 autonomous parking assistance will be provided via future OTA. Please look for XPENG Motors' official announcement on OTA.
*9 Data may vary depending on driving style, road conditions and actual scenario. This does not guarantee automatic parking can be achieved under all circumstances.
*10 Autonomous driving assistance is currently limited to the above two features. Depending on the actual driving environment and road conditions, in some scenarios, the driver still needs to intervene manually.
*11 On congested city roads, it reduces the chance of being cut out in dense, slow traffic.
*12 Eye contact feature currently is only supported by the eye contact-enabled screen. Facial expression recognition can currently recommend music only. Results may vary depending on actual scenario.
*13 Application downloads need to be performed with Internet connection.