SUZHOU, China, November 21, 2018 — XPENG Motors today announced it has signed a strategic partnership agreement with NVIDIA, the world's leader in AI computing, and its China partner Desay SV to jointly develop Level 3 autonomous driving technology tailored for the driving environment in China.
Powered by Xavier, XPENG Motors will self-develop the software for China's typical traffic conditions and user scenarios and will work with Desay SV to jointly develop the computing hardware platform for autonomous driving.
The company plans to implement in various phases the L3 intelligent driving features in its new models, starting in 2020. These features include parking pilot, traffic jam pilot, fully auto lane change and highway pilot, best route navigation and personalization.
Dr. GU Junli, Vice President of Autonomous Driving at XPENG Motors, Mr. Rishi Dhall, Vice President of Automotive Business Development at NVIDIA and Mr. GAO Dapeng, CEO of Desay SV attended the signing ceremony at GTC China, the annual NVIDIA GPU Technology Conference held in Suzhou.
In addition to partnering in hardware development, the three companies will also work extensively on data collection and benchmarking, software development and cloud-based machine learning.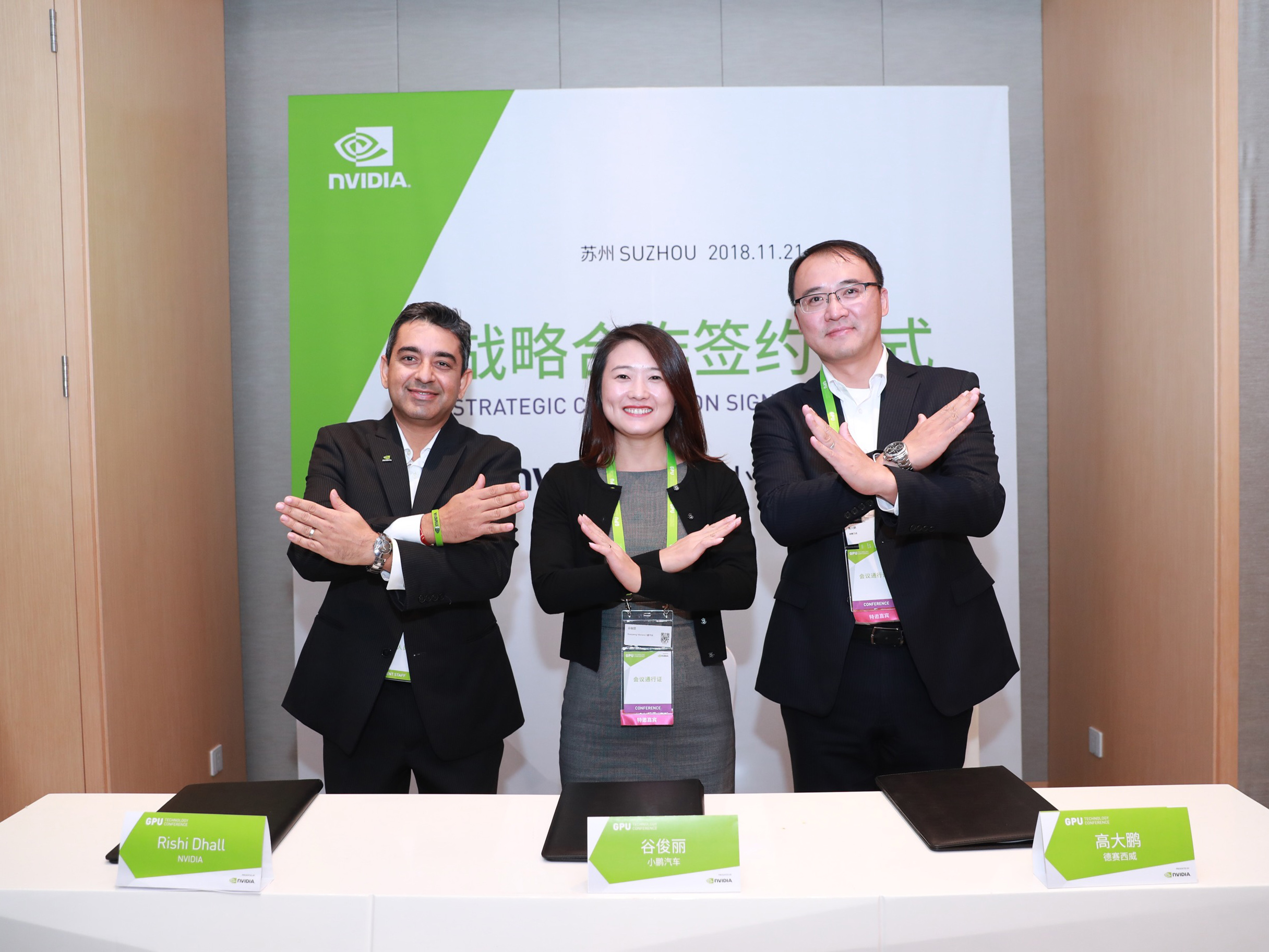 Xavier is the latest AI supercomputing system-on-chip (SoC) released by NVIDIA in early 2018. It is the world's first autonomous driving processor and the most complex system-on-chip (SoC) ever created.
The scalable NVIDIA DRIVE AGX AI automobile computing platform, built on Xavier, is capable of powering advanced Level 2+ driver assistance systems through robotaxis. The system processes data collected from an array of radar, LIDAR, camera and ultrasonic sensors in real-time. NVIDIA DRIVE AGX Xavier is capable of 30 trillion operations per second while consuming merely 30 watts of power, and is equipped by six different processors on the SoC, including a high performance GPU, custom 8-core CPU, a deep learning accelerator and a programmable vision accelerator,
"Our mission is to lead the innovation of intelligent vehicles and make them widely available for Chinese consumers. We are very excited about working with the world's leading players in this field and are confident that this partnership will accelerate our technology advancement." said Dr. Gu Junli.
"Independent research capability is one of our core competences. Understanding China's specific user scenarios is critical in developing smart driving solutions for Chinese consumers and we strive to provide them with the best driving experience," she added.
Rishi Dhall, NVIDIA's Vice President of Automotive Business Development, said: "XPENG Motors is leading the way in China with the production of next-generation EVs that also will need autonomous driving capabilities. XPENG Motor's selection of NVIDIA DRIVE as their AV platform gives them the performance and scalability necessary to bring safe, self-driving systems to the market in China."
"With the rapid development of AI technology, Desay SV is actively working closely with industry partners such as NVIDIA and XPENG Motors to transform the future driving experience", Mr. Gao Dapeng, CEO of Desay SV said during the signing ceremony. "Based on the 30-plus years of R&D expertise and experience, Desay SV focuses on prospective technologies, and provides solutions with better autonomous driving capabilities through continuously building domestic and overseas R&D teams and investing in R&D related activities. At the same time, we will maintain close cooperation with NVIDIA and XPENG Motors to bring better solutions for car driving."